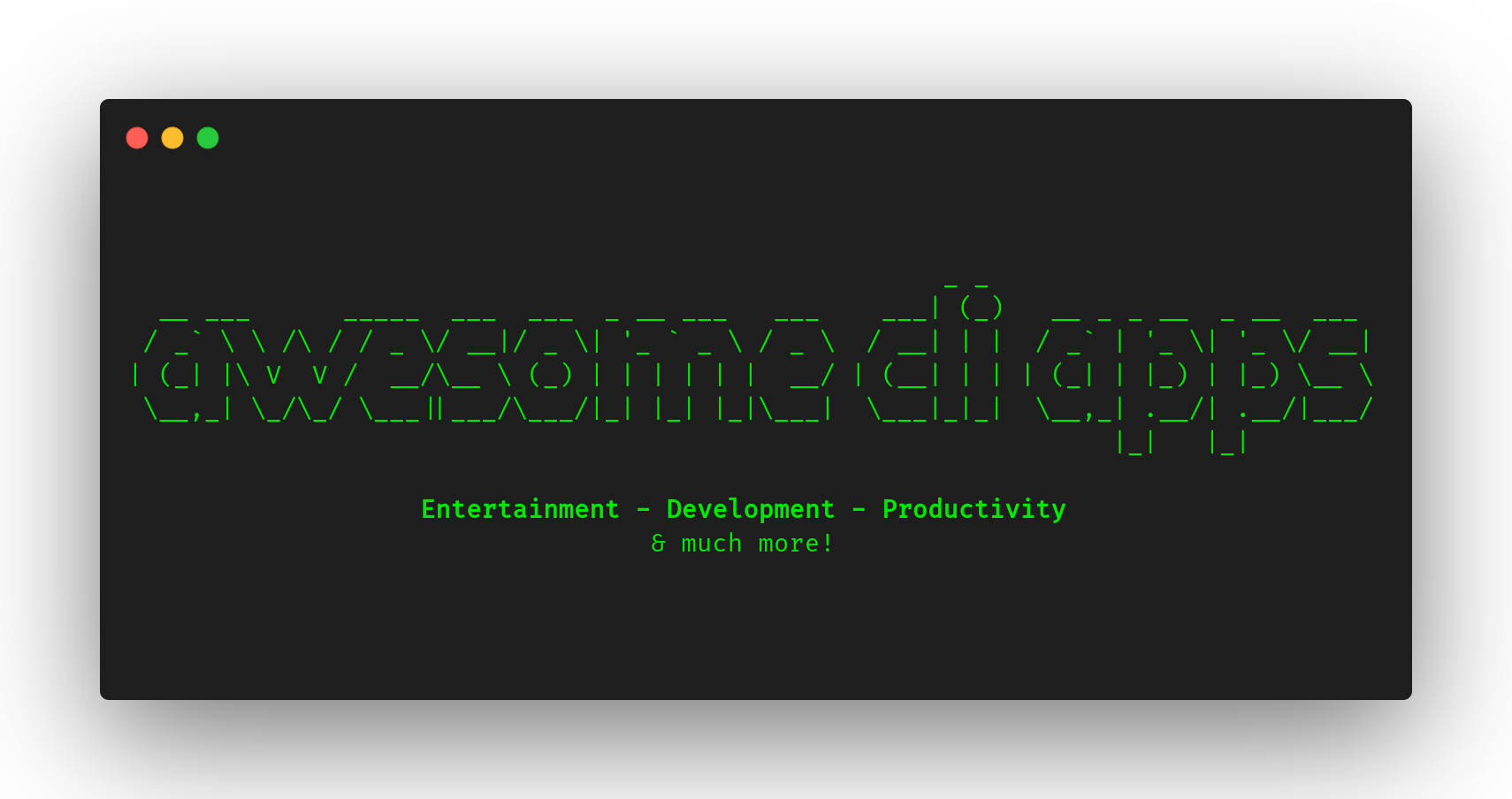 ---
A curated list of command line apps.
Inspired by the awesome list thing.
Table of Contents
---
Entertainment
football-cli - Get live scores, fixtures, standings of almost every football competition/league.
newsboat - An extendable RSS feed reader for text terminals.
Music
Social Media
Video
Movies
Games
Dwarf Fortress - Roguelike construction and management simulation.
Cataclysm-DDA - Turn-based survival game set in a post-apocalyptic world.
Books
Development
Text Editors
Web Development
Mobile Development
Database
Devops
Docker
Release
Npm
Boilerplate
Productivity
Time Tracking
Note Taking and Lists
Finance
Presentations
Calendars
Utilities
macOS
Terminal Sharing Utilities
Network Utilities
Theming and Customization
Shell Utilities
System Interaction Utilities
Markdown
DocToc - Generates table of contents for markdown files.
grip - Preview markdown files as GitHub would render them.
mdv - Styled terminal markdown viewer.
Security
Command Line Learning
Data Manipulation
visidata - Spreadsheet multitool for data discovery and arrangement.
Processors
JSON
Columns
parse-columns-cli - Parse text columns to JSON.
q - Execution of SQL-like queries on CSV/TSV/tabular text file.
Text
figlet - Creates large text out of ASCII characters.
stegcloak - Hide secrets with invisible characters in plain text securely.
Files and Directories
File Managers
Deleting, Copying, and Renaming
Files
File Sync/Sharing
Directory Listing
Directory Navigation
Search
Version Control
SnowFS - A fast, scalable version control system for binaries.
Git
Images
Gif Creation
Image Conversion
imgp - Blazing fast batch image resizer and rotator.
korkut - Quick and simple image processing.
imagemagick - Gold standard for anything images.
SVG
SVGO - SVG Optimizer is a Nodejs-based tool for optimizing SVG vector graphics files.
Screensavers
Graphics
cli-mandelbrot - A cli for traversing the Mandelbrot fractal.
sparkly-cli - Generate sparklines ..
pastel - Generate, analyze, convert and manipulate colors.
Just for Fun
Other
Emoji
Other Awesome Lists
License
To the extent possible under law, Adam Garrett-Harris has waived all copyright and related or neighboring rights to this work.