News App 🗞
News App is a simple news app 🗞️ which uses NewsAPI to fetch top news headlines from the API. The main aim of this app is to be a leading example of how to build Modern Android applications for all Android Developers
The codebase focuses 👓 on following key things:
Code structuring, style and comments
Dependency injection 🗡
Offline first ✈️
Kotlin + Coroutines
And tests 🛠
Emojis (ofcourse) 😛
The idea is to keep the app super simple while demonstrating new libraries and tools which makes it easier to build high quality Android applications.
Development Setup 🖥
You will require latest version of Android Studio 3.0 (or newer) to be able to build the app
API key 🔑
You'll need to provide API key to fetch the news from the News Service (API). Currently the news is fetched from NewsAPI
Generate an API key (It's only 2 steps!) from NewsAPI
Create new file named -> credentials.properties in our project root folder
Add the API key as shown below [Make sure to keep the double quotes]:
    NEWS_API_KEY = "<INSERT_YOUR_API_KEY>"

Build the app
Enjoyyyyy 🎉
Libraries and tools 🛠
News App uses libraries and tools used to build Modern Android application, mainly part of Android Jetpack 🚀
Architecture
The app uses MVVM [Model-View-ViewModel] architecture to have a unidirectional flow of data, separation of concern, testability, and a lot more.
Read more: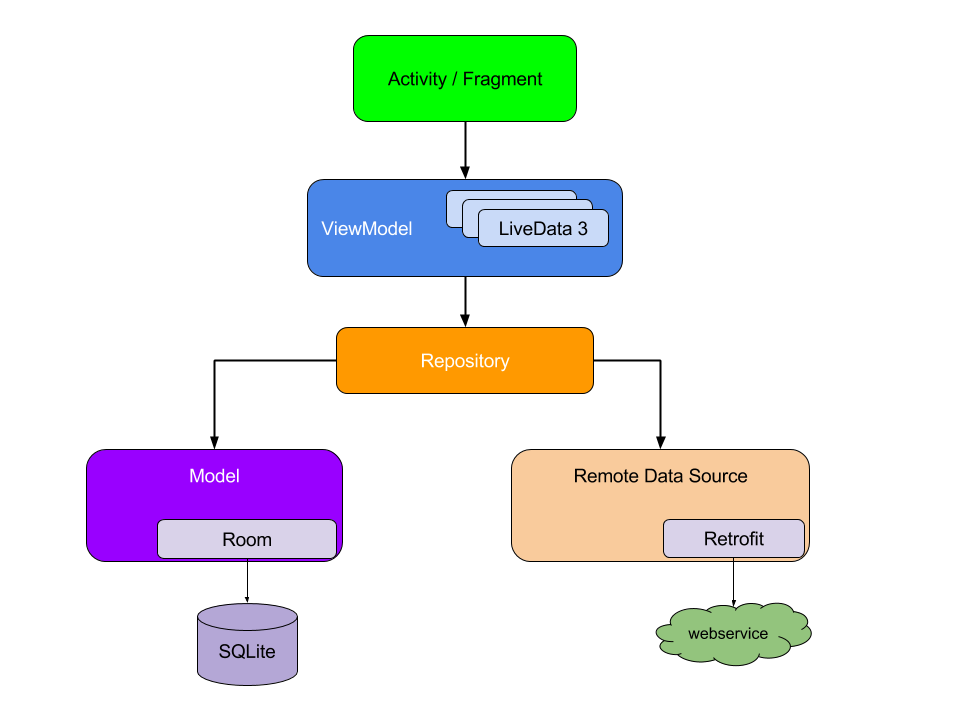 Dependency Graph 🔪
The following diagram shows the dependency graph of the app.
Generated by Daggraph
---
Learn Architecture Components
Trying to learn the new Architecture Components. I have wrote a series of articles to understand Android Architecture Components. Feel free to check it out to learn more.
Extra - Caster.io Course and Podcast
Testing
The architecture components are highly testable. Following table shows how to test various parts of the app (cheatsheet for testing architecture component)
| Component | Test | Mock |
| --- | --- | --- |
| UI | Espresso | ViewModel |
| ViewModel | JUnit | Repository |
| Repository | JUnit | DAO and WebService |
| DAO | Instrumented | - |
| WebService | Instrumented | MockWebServer |
Contributing
Please read CONTRIBUTING.md for contributions.
License
The MIT License (MIT)

Copyright (c) 2017 Akshay Chordiya

Permission is hereby granted, free of charge, to any person obtaining a copy
of this software and associated documentation files (the "Software"), to deal
in the Software without restriction, including without limitation the rights
to use, copy, modify, merge, publish, distribute, sublicense, and/or sell
copies of the Software, and to permit persons to whom the Software is
furnished to do so, subject to the following conditions:

The above copyright notice and this permission notice shall be included in all
copies or substantial portions of the Software.

THE SOFTWARE IS PROVIDED "AS IS", WITHOUT WARRANTY OF ANY KIND, EXPRESS OR
IMPLIED, INCLUDING BUT NOT LIMITED TO THE WARRANTIES OF MERCHANTABILITY,
FITNESS FOR A PARTICULAR PURPOSE AND NONINFRINGEMENT. IN NO EVENT SHALL THE
AUTHORS OR COPYRIGHT HOLDERS BE LIABLE FOR ANY CLAIM, DAMAGES OR OTHER
LIABILITY, WHETHER IN AN ACTION OF CONTRACT, TORT OR OTHERWISE, ARISING FROM,
OUT OF OR IN CONNECTION WITH THE SOFTWARE OR THE USE OR OTHER DEALINGS IN THE
SOFTWARE.