Instagram Downloader
---
An extension that adds a button to each post to download the corresponding image/video in the best available quality. 🎉.
In action 🎥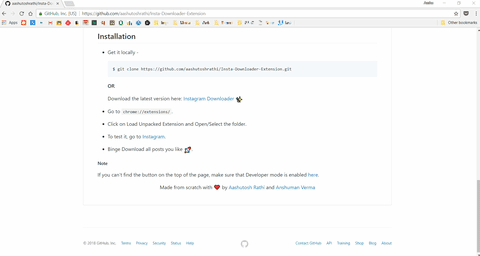 Installation
Firefox Users
Chrome Users
Get it locally -

$ git clone https://github.com/aashutoshrathi/Insta-Downloader-Extension.git


OR

Download the latest version here: Instagram Downloader ✨

Go to chrome://extensions/.

Click on Load Unpacked Extension and Open/Select the folder.
To test it, go to Instagram.
Binge Download all posts you like 🚀.
Note
If you can't find the button on the top of the page, make sure that Developer mode is enabled here.
Made from scratch with ❤ by Aashutosh Rathi and Anshuman Verma